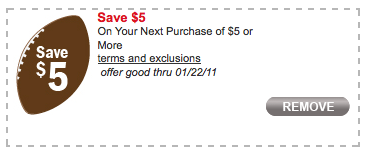 Right now Meijer is offering a $5/$5 purchase coupon for new mPerk sign-ups.
Head over to Meijer mPerks and sign up for a FREE account
You'll receive a text with a code to activate your account.
Your $5 coupon will already be clipped.
When you head to Meijer, simply touch the mPerks logo at checkout and enter your cell phone number to use your $5/$5 coupon on your purchase.
This offer ends 1/22/11.
Sarah from Give Me Neither is the Deal Seeking Mom Store Expert for Meijer. At Give Me Neither, Sarah finds joy in helping her readers simplify saving, showing that there's a place for quality even in a budget and that living richly doesn't mean you need to be rich.