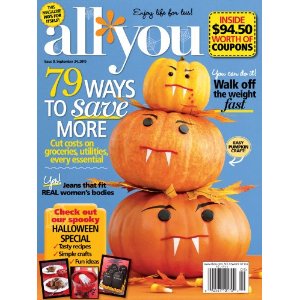 Don't toss those new magazine issues without checking the list of magazine coupons that Nicole's Nickels has compiled! You'll find a number of rare and/or high-value coupons that we don't often find elsewhere, and the best part is many of these are subscriptions that we've been able to obtain for FREE or very cheap over the past year.
Here are just a few highlights:
$1/1 Bagel Bites Snacks, exp. 4-30-11 (Parents, Sept.)
$0.50/2 Green Giant Boxed Vegetables, exp. 3-1-11 (Weight Watchers, Sept.)
$0.50/1 Old Orchard Healthy Balance Juice, exp. 12-31-10 (Shape, Sept.)
$1.50/2 Pledge Products, exp. 11-30-10 (Parents, Sept.)
$1/1 Revlon Beauty Tool @Target, exp. 1-25-11 (Marie Claire, Sept.)
$2/1 Tide Liquid, exp. 9-30-10 (Good Housekeeping, Sept.)
$1/1 V8 Soup, exp. 12-31-10 (Cooking Light, Sept.)
Check out the full list, and I'll be adding these to the coupon database shortly if they're not already listed!