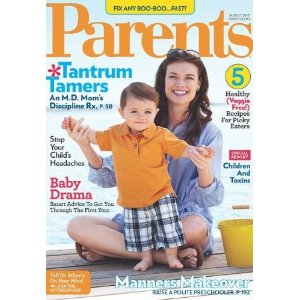 Get a one-year Parents magazine subscription for $4
through 8/14 on Amazon. Not only is this a nice price on this magazine, but look at the fantastic coupons that are in the September issue:
$10/$50 Land's End Kids, exp. 9/15/10
15% off Oshkosh Stores, exp. 9/30/20
$1/1 Bagel Bites Snacks, exp. 4/30/11
$1.50/2 Pledge furniture care products, exp. 11/30/10
$0.75/1 Pledge Multi-Surface product, exp. 11/30/10
$0.75/1 Pledge Fabric Sweeper for Pet Hair, exp. 11/30/10
$1/1 Sara Lee Pre-sliced Meat, exp. 12/31/10
20% off Diapers at Amazon.com, exp. 9/30/10
$2/1 Tide Liquid, exp. 9/30/10
$1/1 V8 Soup, exp. 12/31/10
FREE 1.14-oz. bag M&M's Brand Pretzel Chocolate Candies wyb 1.14- to 3.27-oz. bag of M&M's Brand Chocolate Candies at Target, exp. 10/31/10
Find out what coupons you can expect to find in all of your favorite magazines on Nicole's Nickels!
Thanks to her hard work, I'll be able to add this information to the Deal Seeking Mom Coupon Database so we can all save more.