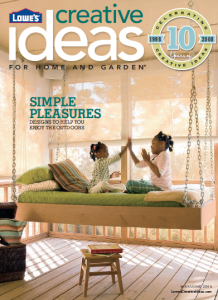 If you have a home improvement project looming on the horizon, you may want to sign up for the Lowe's Creative Ideas publications.
I just received the September/October Home and Garden issue, and not only does it have several really great articles dedicated to small improvements you can make around the house to save money, but I was also pleasantly surprised to find $10/$50 purchase, $25/$250 purchase, and 20% off Rust-Oleum Professional Garage Floor Coating coupons tucked inside.
I'm not sure if these coupons are a regular occurrence, but they're definitely a welcome bonus and worth the 30 seconds it takes to sign up!