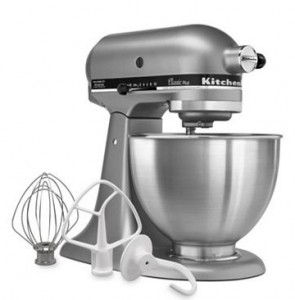 Right now from Kohl's you can pick up a KitchenAid 4.5 Quart Mixer for $153 (reg. $299)!  Kohl's has the KitchenAid Classic Plus mixer on sale for $229 plus there's a new $30 rebate offer too. Here's the deal:
Kohls KitchenAid Mixer, $229
Use coupon code: SNOW (saves $46)
Submit $30 Kohl's KitchenAid rebate
$153 after rebate and discount!
(Thanks, My Frugal Adventures!)