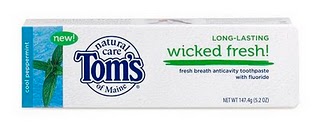 Play the Wicked Fresh instant win game on the Tom's of Maine Facebook page to instantly win thousands of prizes! I played and won a FREE sample of Tom's of Main Wicked Fresh Toothpaste. Maybe everyone will "win" this?
You'll be asked to enter a photo for the sweepstakes part of the promotion, but you can easily bypass this by scrolling down and clicking on "Skip Contest" at the bottom.
Thanks, Organic Deals & Coupons!