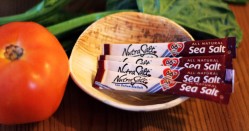 Get a FREE sample of NutraSalt Low Sodium Sea Salt for filling out a quick and simple form.
More FREE sample offers:
As a side note — I've noticed that several people have been using my Deal Seeking Mom email address(es) to request freebies. If you're going to request freebies for me, I'd appreciate if you'd use my mailing address too! :)
All kidding aside, I'd encourage everyone to read my Freebies 101 post and set up a junk email address just for your freebie requests. It's extremely difficult to keep up with my email as it is, and setting up a separate account will help keep both of our inboxes less cluttered.