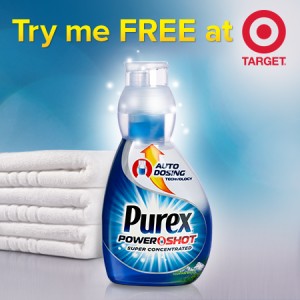 Freebie Friday is provided by Wendi, who blogs at TheFreebieBlogger, where she finds you 100% free items each and every day.
Purchase a Purex Powershot product and receive your purchase price back (up to $3.99) with this mail-in rebate. Purchases must be made between 4/5/15 and 6/30/15. Fill out and print the form here, and mail-it in with your original receipt by 7/31/15.
Print the coupon here to get a FREE 8×10 Portrait with no sitting fee (for one person). Offer good through 5/7/15 with a $9.99 sitting fee per additional person. Limit one coupon per family. Click here to find a location near you.
See the previous freebie roundups for more free sample offers that are still available!
As always, make sure you're protecting your personal information when you're signing up for freebies.
–––––––––––––––––––––––––––––––––––––––––––––––––––––
Every Friday I'll start a new post with a Mr. Linky for you all to share your fabulous freebie finds with Deal Seeking Mom readers! If you have a freebie you'd like to list, just leave your link below.
To keep it neat, I suggest that you list your blog name and then the freebie you've found in parentheses, ex. Deal Seeking Mom (Free Toilet Paper Sample). The only requirement is that you link directly to your post on the freebie. Links directly to your homepage will be deleted.