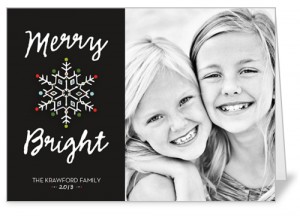 Right now new customers to Shutterfly can enjoy 10 FREE Custom Greeting Cards (Choose from 5×7, 4×8, 5×5, 6×8 flat stationery or 5×7 folded or 5×7 trifold cards)
! Just use coupon code 85RV432GSH29UQ22 during checkout to get your 10 cards for FREE! Taxes, shipping and handling will still apply to your order. My tax and shipping added $6.35 – which still means the cards are just $0.64 each – for custom photo cards!
Here's how to get yours:
Register with Shutterfly – just click on "Sign up" at the very top right. When you sign-up for a new account you'll get 50 FREE prints too.
Click on the Shutterfly logo to go to the main page and then choose the "Cards and Stationery" category
Click on the "Find Your Card"
Check the left side of the page to search by card types- choose either the 6×8, 5×7, 5×5, or 4×8 flat stationery cards, or 10 5×7 folded greeting cards to start browsing designs.
Choose your template and design your card(s) and 'add to cart.'
Choose to have the cards and envelopes shipped to you and proceed to checkout.
Enter coupon code 85RV432GSH29UQ22 to get your cards for FREE
Just pay shipping (and applicable sales tax) when you order your FREE cards. When you use your coupon it does not apply towards standard shipping which should cost around $5.99 – which is a super deal for 10 custom cards you don't have to leave home for!
Enjoy sharing your creation with your loved ones!
Hurry – Offer expires today 10/16/13 (11:59 P.M. PT). Offer is good for 10 free 5×7, 4×8, 5×5, 6×8 flat stationery or 10 free 5×7 folded or 5×7 trifold cards with code 85RV432GSH29UQ22. Valid through 10/16/13 only. Offer valid for one-time redemption per billing address. Taxes, shipping and handling will apply.