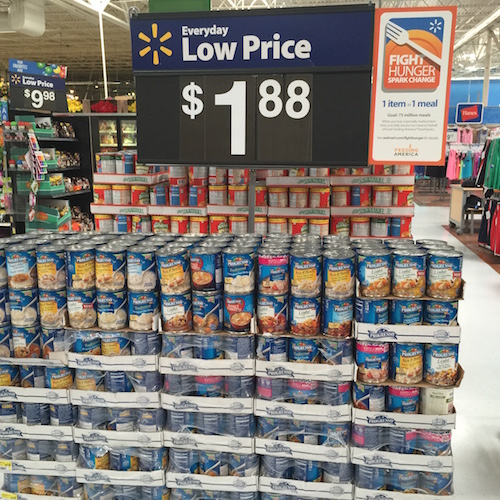 In a perfect world, every family would have access to affordable, nutritious and sustainably grown food. Unfortunately, reality is that one in six Americans is unable to secure adequate nutrition. Imagine having to make the choice between putting food on your table or other basic necessities — where would you turn?
Thankfully there are networks, like Feeding America, that offer hope to families experiencing food insecurity. But Feeding America relies heavily on donations from food and grocery industries, government agencies, individuals and other organizations to serve their communities, and that's where Walmart has stepped up to the plate.
To assist in supporting the need for donations, Walmart developed the Fight Hunger. Spark Change. campaign. Along with six suppliers — Campbell's, ConAgra Foods, General Mills, Kellogg Company, Kraft, and Unilever — Walmart hopes to make an impact by educating and raising awareness about the issue of hunger to the more than 250 million people that shop at Walmart each week.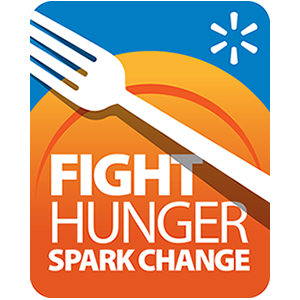 3 Easy Ways to Get Involved and Help Fight Hunger
Walmart customers can get involved by choosing one, two, or all three of the options for getting involved below!
Purchase: Purchase one of the 239 participating products in Walmart stores nationwide, and the supplier will make a donation to help Feeding America secure a meal on behalf of a local food bank. For every item purchased, a meal will be secured for the local Feeding America food bank.*
Donate: Customers will also be able to donate on behalf of a local Feeding America food bank at the cash register during check out.
Share: Grab friends, family or co-workers and take a picture of six people who share your commitment to fighting hunger. Then, publish the picture on Facebook, Instagram or Twitter, make the post public and include the hashtag #WeSparkChange. For every public post connected to the #WeSparkChange hashtag, Walmart will donate $10, up to a maximum donation of $1.5 million, to Feeding America and their member food banks.
This campaign will run in U.S. Walmart stores from April 6 to May 3, so get out and get involved! Learn more at: https://walmart.com/fighthunger
*DISCLAIMER: For every participating product purchased at Walmart between April 6th and May 3rd, 2015, the manufacturer will donate $0.10 to Feeding America® — enough to secure 1 meal on behalf of local food banks — up to each manufacturer's maximum donation. Each manufacturer's maximum donation is provided on the participating packages. See package or Walmart.com/FightHunger for details.