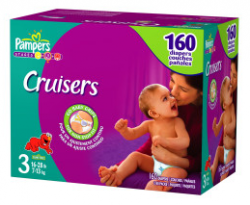 Want to stock up on Pampers diapers at a deep discount, plus qualify for the $100 P&G Coupon Booklet Rebate in the process — all without leaving the house? Well, if you're a new Diapers.com customer, you can totally make this a reality.
Step-by-step instructions:
Register with Diapers.com for a new account. Note: this offer is good for new accounts only.
Add the following items to your cart:

Pampers Cruisers Extra Large Case Diapers, $42.99
Pampers Sensitive Thick Wipes Tub, $3.99
Pampers Sensitive Wipes Tub, $3.49

Use the promo code DEALMOM at checkout to receive $10 off your order and FREE shipping over $49.
Your out of pocket costs will be $40.49.
Print and submit this mail-in rebate and submit within four week to receive $14.97 back.
Print and submit for the $100 P&G Coupon Booklet for spending $50 on P&G products.
After you receive your MIR, you'll have paid just $25.52 for an extra large case of diapers, 2 tubs of wipes, and qualify for the $100 in P&G coupons!
The free shipping on orders over $49 and $10 off with code DEALMOM will actually work on any order, so be sure to check out their cloth diapers, baby food and bath care products as well. Just remember you won't qualify for the P&G offer.
Make this offer even better by shopping through ShopAtHome for 1.5% cashback or Ebates for 1% cashback. As always, new members to both of these sites will receive a $5 bonus with their first order.
Thanks, Passion For Savings!