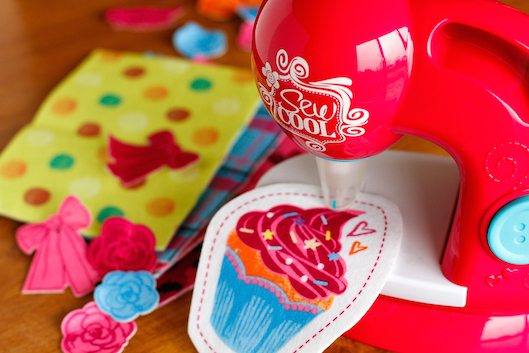 I'm so excited to be sharing my perspective on some of the amazing toys that made Wamart's Top 20 Toy List over the next few weeks! The coolest thing about Walmart's Top 20 Toys, is that they were actually chosen by kids…
For the second year, Walmart gathered hundreds of children ages 18 months to 12 years and turned them loose. They played with the hottest new toys from Hasbro, Mattel, Spin Master and Zing to get their thoughts and stamps of approval.
The result? Wamart's Top 20 Toy List — and these are toys that are sure to knock your kids' socks off Christmas morning!
Sew Cool Machine Review
This week I'll be focusing on creative toys, specifically the Spin Master Sew Cool Sewing Machine. I've got some crafty little girls, so they were super excited to give this highly-rated toy a test drive.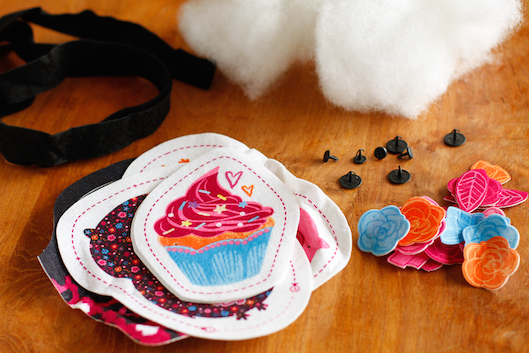 Priced at $29.97, the Sew Cool Machine comes with an impressive selection of projects to get your little seamstress started. Included with the "sewing machine: are:
8 sheets of Sew Cool fabric
3 Sew Cool pre-cut featured projects
1 Sew Cool strap
14 pre-cute decorative pieces
8 plastic buttons
1 bag of loose stuffing
6 extra project patterns
1 instruction guide for machine
The Sew Cool Machine is appropriate for ages 6 and up, because there are no worries about little fingers and needles! It works by "felting" the fabric together, so there's no need for thread, and the felting needles are enclosed in a plastic guard for safety.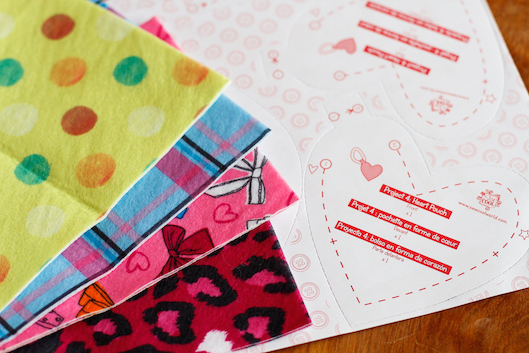 If your girls fly through the fabric and pre-cut projects (and I assure you they will!), you can pick up Sew Cool fabric kits and refills. Or you can actually "sew" any kind of felt or fleece. In fact, my girls made blankets for their American Girl dolls with leftover fleece scraps from a no-sew blanket that I made recently.
Kids Verdict? It's safe to say that my girls LOVED the Sew Cool Machine! So much that my 8-year-old, Addie, asked me if she could make a video demonstrating how to make the cute cupcake project for you all. It's a little long, even though I tried to speed it up during the sewing parts, but I know it would make her day if you'd take 3 minutes to watch it!
Mom's Verdict? This is a toy that I'd highly recommend. It kept my girls engaged for hours, and not only with the pre-cut project and patterns. It really sparked their imaginations, and they created their own projects using scrap fabric. One special note — this item does require (4) AA batteries, so make sure to stock up on those before giving this as a gift!
Quick purchase links:
More Top Toys for the Creative Child
If you're looking for more creative toys at every price point, Walmart's got something for every wish list and budget. Here are just a few other toys that my kids have been eyeing:
Moose Toys Beados Quick Dry Design Station, $17.76 — make a bright, colorful world of beads with this fun kit that features pod storage, a design tray, scoop pen and 500 Beados!
Make Your Case Case Maker, $22.20 — the first-ever kit for making your own cell phone sleeves and customizing them to your style and taste, allowing you to personalize, customize and accessorize your own designer cell phone case!
Crayola Virtual Design Pro Fashion Collection, $29.97 — bring your fashion designs to life with a full range of high-quality, colorful design tools and special iOS and Android software that brings your fashions to life on a virtual runway!
Get the Top Toys at the Best Price
Walmart is committed to bringing you all of the hottest toys at the lowest prices. Get the most for your money with these savings tools:
Savings Catcher: If Savings Catcher finds an advertised price that's lower than what you paid for the same exact item, you'll get a Walmart eGift Card for the difference!
Layaway: Customers taking advantage of Walmart's holiday layaway with no opening fee can stretch dollars further by paying at their own pace through Dec. 15.
Ad Match: Walmart's great prices are backed by its Ad Match Guarantee. Stores will match the price of any local competitor's printed ad for an identical product.
Is the Sew Cool Sewing Machine on your child's Christmas wish list?