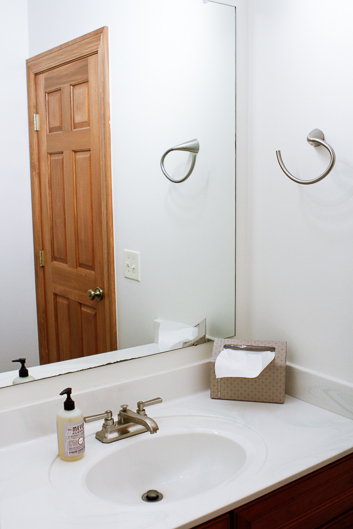 I think we all have at least one room in our house that's a bit neglected and could use an update. For us, it's our downstairs guest bathroom. Oh, I have big plans for it, but I haven't had the time or budget to execute them just yet.
I would have loved to be able to do a complete remodel before the holidays, but unless I hit the jackpot in Vegas this weekend, a small refresh is all that I can hope for at this point. The peeling mirror will have to wait, but the paper hand towels and basic liquid hand soap dispenser are a fairly easy fix.
So I made a quick trip to Walmart to see what I could come up with…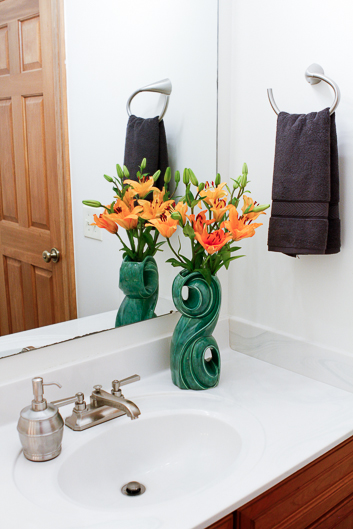 The first item I picked up was a new Better Homes and Gardens hand towel. Priced at just $7.47, I was impressed at how thick and plush this towel is, and I love the dark, neutral gray color. It appears that they're only sold as a set online, but they can all be purchased individually in stores.
Next I grabbed a new hand soap dispenser. This is also made by Better Homes and Gardens and is actually labeled as a lotion dispenser, but that didn't deter me. The quality is comparable to much more expensive dispensers I've seen, but the $12.68 price tag is far less. I transferred my favorite Mrs. Meyer's lavender hand soap to it, and it looks so much more put together now.
Fresh flowers are a fantastic way to add color and vibrancy to any room, including bathrooms. I'm actually not a fan of roses, which is great for my budget, and these gorgeous lilies were only $4.88. The vintage vase was a gift from my dad a few years ago, so I'm happy to find a good home for it.
With a good cleaning and the items that I picked up, I'm pretty satisfied with how it looks for how. While it's not a huge change, I think I achieved a nice little pick-me-up for $25, and the bathroom certainly looks a little more "guest worthy!"