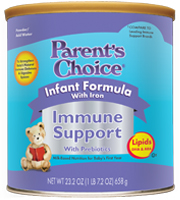 Sign-up today to receive a FREE Parent's Choice Infant Formula sample and new product news from Walmart. As I've mentioned before, I just love Walmart samples because I can trust that I'll actually receive them, and they generally show up in my mailbox very quickly!
Thanks, Baby Goodbuys!
More baby formula samples:
Many of these companies will continue to send valuable coupons towards future formula purchases, so it's worth the few minutes it takes to register!