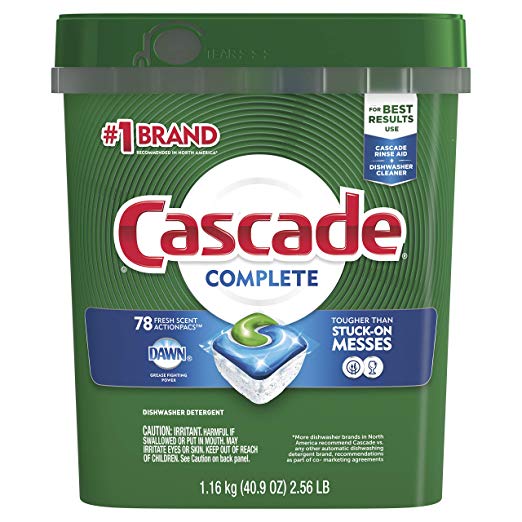 Curious which bargains your fellow deal seekers were into the most this week? I'm expanding the list to ten for the holiday season, so here are the top 10 Amazon deals (that are still available) from the past week — as decided by YOU!!!
1| Cascade Complete ActionPacs Dishwasher Detergent (78-ct.), $8.31 — the price on these dishwasher detergent pacs has increased just slightly since I originally shared them, but this is still a really good deal!
2| Original Slinky Walking Spring Toy, $3.39 — this classic toy makes an awesome stocking stuffer… Did you start singing the Slinky song in your head when you saw this? I know I did!
3| Jenga Mini Game, $3.96 — another fun little stocking stuffer that's currently 64% off the regular price!
4| Magnetic Measuring Spoons Set (6-pc.), $5.99 — I thought you guys would love these as much as I do, and it turns out you do! The original black set I shared is out of stock, but this colorful set is the same price. If you really want black, here's a set that's currently priced at $7.99…
5 | Rubbermaid Brilliance Food Storage Container Set (5-pc.), $12.99 — these locking food storage containers are absolutely beautiful! I can hardly believe they're still available at this price.
6 | World's Smallest Lite Brite, $4.99 — I figured you guys might love this deal on the World's Smallest Lite Brite as a stocking stuffer or white elephant gift. And I was right!
7| Organic Lip Balm Set (6-pk.), $5.59 — 4 weeks running and you guys are still loving these organic lip balms, and I can see why… They come in 6 different flavors would make great stocking stuffers or party favors!
8| Lego BrickHeadz Mr. & Mrs. Claus Set (341-pcs.), $13.99 — these Lego BrickHeadz sets have to be some of the cutest Lego sets I've ever seen, and the Mr. & Mrs. Claus set is exceptionally adorable!
9| The Polar Express 30th Anniversary Edition Hardcover Book, $9.00 — this is the lowest price to date on this classic children's book, one that I'm sure will be treasured for many, many years!
10| Pyrex Simply Store Glass Rectangular Food Container Set (6-pc.), $12.59 — this Pyrex set is such an awesome deal and especially useful with Thanksgiving coming up! So glad I stumbled upon it while looking for something else.
Browse these other Amazon deals before you check out!
These items ship FREE with Amazon Prime. Not a Prime Member? Start your FREE 30-Day Prime Trial and take advantage of these great deals!