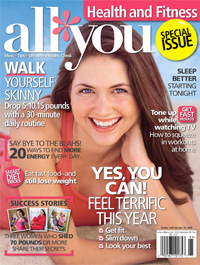 Check it out! ALL YOU has a special issue that will show up in Walmarts everywhere today, Friday, January 2nd.
Run out and purchase your copy of ALL YOU Health & Fitness for information to improve your health, diet, and exercise routine, as well as these money-saving coupons!
Don't forget to use your $0.50 off coupon that was in the January issue. This issue is $4.43 ($3.93 after coupon), so you'll have to weigh whether or not the coupons and information are worth the price.
$5/1 Black Lace Eau de Toilette Spray
$1.50/1 Any Colgate Total Advanced Toothpaste
$1/1 Any VIACTIV product
$5/1 Aquafresh White Trays Pro-Gentle System
$3/1 Any Monistat Yeast Infection Product
$1/1 8th Continent Soymilk, 64 fl. oz. size
$0.50/1 ALL YOU Magazine
$1/1 Healthy Choice Café Steamers
Looking for a fabulous deal on an ALL YOU subscription?  See how you can get a 2-year ALL YOU subscription for just $19.95!