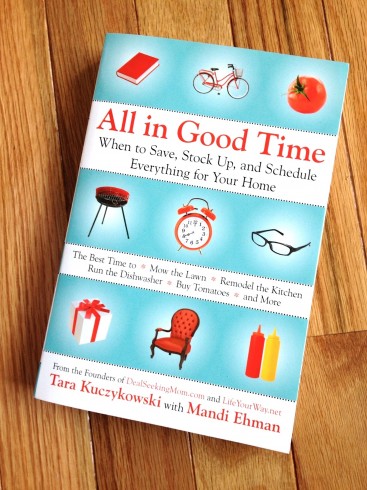 Maybe you've noticed the video trailer in the sidebar, but if not, I've got some BIG news… Mandi of LifeYourWay.net and I were hard at work in 2011 combining our expertise to write a book that you'll be able to find on shelves tomorrow, Tuesday, January 3rd, 2012!!!
Now writing a book has never been a goal of mine, but when the opportunity basically fell into my lap, I just knew that Mandi would be the perfect partner to help pull it all together. All in Good Time: When to Save, Stock Up, and Schedule Everything for Your Home is the product of countless hours of research and writing all spent to bring you the best tips for saving money and time that we could scrounge up.
I flew to Maryland in early December for a whirlwind trip to film a fun book trailer that shares a bit more about the book, as well as some fun facts about how Mandi and I developed a friendship over the years after meeting online nearly seven years ago:
It's so exciting to actually be able to hold the results off all of our hard work in my hand. But more importantly, I'd just like to take a moment to thank you, my reader, because without you none of this would have been possible!
And if it's not too much trouble, I'd love to ask for your help in promoting this book. Here are a few simple ways you can help:
Today I'm giving away TEN copies of All in Good Time! To enter, simply pick one of the things from the list above to do and then leave a comment telling me which one you've done.
Want an extra entry? Do as many of the things as you'd like; just be sure to leave a separate comment for each!
By the way, if you're a blogger interested in receiving a review copy of All in Good Time, I'd love to pass your information on to my publisher. Contact me here with your preferred email address!
This giveaway ends at 11:59pm EST on Wednesday, 1/4/12, and is open to all U.S. residents 18 years or older. I'll use And the Winner Is to select the winning comment. Winner will be notified by email and listed on my Giveaway Winners page. Winners must respond within 48 hours of notification to claim their prize. Good luck!