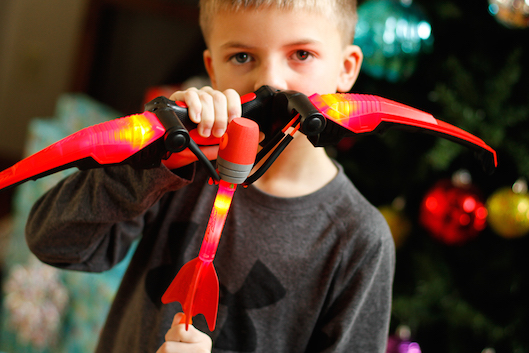 I'm so excited to be sharing my perspective on some of the amazing toys that made Wamart's Top 20 Toy List over the next few weeks! The coolest thing about Walmart's Top 20 Toys, is that they were actually chosen by kids…
For the second year, Walmart gathered hundreds of children ages 18 months to 12 years and turned them loose. They played with the hottest new toys from Hasbro, Mattel, Spin Master and Zing to get their thoughts and stamps of approval.
The result? Wamart's Top 20 Toy List — and these are toys that are sure to knock your kids' socks off Christmas morning!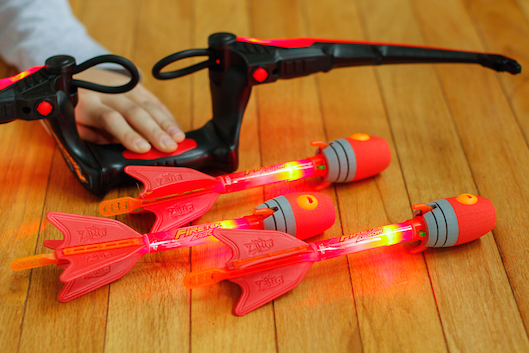 Zing Air Storm Firetek Bow Review
This week's focus is on classic toys with a twist — these made kids' top list for the second year. Parents will recognize many of the brands and types of toys kids chose, like the Zing Air Storm Firetek Bow.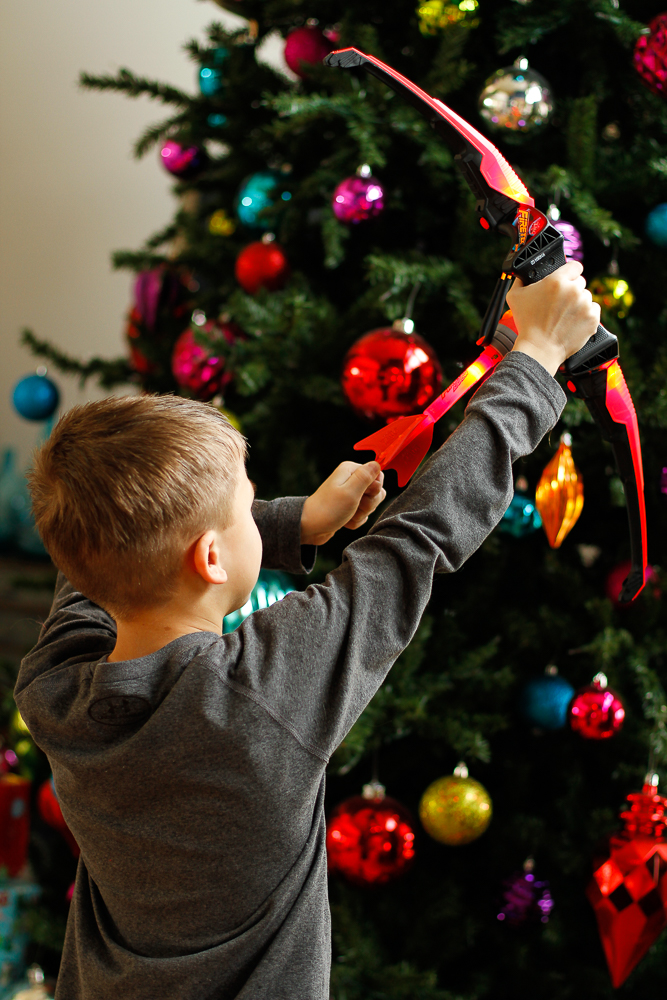 Priced at just $24.97, the Air Storm Firetek Bow isn't just your average bow. Believe me — as a mom of 3 boys, we've tried the lot of them. Both the bow and arrows light up, and the Zonic Blaze arrows whistle as they sail through the air, setting the Air Storm Firetek Bow apart from the pack. Highlights include:
Loop-and-launch technology
LED-activated power grip
Fire-glow LED
Fast-load, soft foam, long-range arrows shoot over 125′
Includes 1 LED power bow and 3 Zonic Blaze whistling arrows
Requires 2 AAA batteries (included)
The Firetek Bow is recommended for ages 8 and up; however, I doubt I'll be able to keep it out of my almost 7-year-old's hands. His eyes lit up as bright as the bow and arrows when he saw my oldest son testing it out!
Kids Verdict? My boys were super excited to try out the Air Storm Firetek Bow when it arrived. Even though it was barely 30 degrees outside, they insisted on testing it out right away, and they loved the whistling arrows and the light-up features. I definitely see them playing with these a ton when it gets warmer, and I'm pretty sure I'll be picking up a couple more to eliminate any arguments, along with an Air Huntress Firetek Bow or two for my girls. Fun for the whole family!
Mom's Verdict? My two oldest boys are only a year apart, and they're known for getting a little rambunctious, so I appreciate the soft tips on the Zonic Blaze arrows. This is definitely a toy that will get them out of the house (I wouldn't recommend it for indoor play). I also give it high marks for having the batteries included!
Quick purchase links:
More Top Classic Toys
If you're looking for more classic toys at every price point Walmart's got something for every wish list and budget. Here are just a few other tops toys in this category:
Fisher-Price Little People Musical Preschool, $29.97 — Little People friends help kids imagine the fun of a real preschool, complete with activities, a magical rug, pets and more than 35 sounds, music and phrases!
Barbie Sisters Camper, $74.97 — take Barbie's fabulous life on the road, features everything a doll could need for first-class camping!
Hot Wheels Street Hawk Remote-Control Flying Car, $49.92 — this Hot Wheels remote-control car/airplane offers a cool combination of on-ground R/C performance, including proportional ground steering, and the aerial performance of a plane. !
Get the Top Toys at the Best Price
Walmart is committed to bringing you all of the hottest toys at the lowest prices. Get the most for your money with these savings tools:
Savings Catcher: If Savings Catcher finds an advertised price that's lower than what you paid for the same exact item, you'll get a Walmart eGift Card for the difference!
Layaway: Customers taking advantage of Walmart's holiday layaway with no opening fee can stretch dollars further by paying at their own pace through Dec. 15.
Ad Match: Walmart's great prices are backed by its Ad Match Guarantee. Stores will match the price of any local competitor's printed ad for an identical product.
Is the Zing Air Storm or Air Huntress Firetek Bow on your child's Christmas wish list?