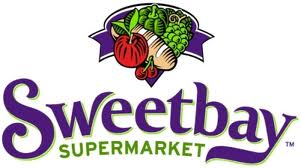 Thanks to Melisha at True Couponing for compiling a list of the best deals to be found at Sweetbay Supermarket this week.
New to couponing? Read up on what all of these abbreviations mean first in my quick reference guide.
CapriSun (10 pk.), 3/$5
Limit 3
$1/1 Capri Sun Juice Drinks, exp. 9/17/11 (Winn Dixie & Kraft Foods Mailer)
$0.67 ea. after coupon!
Sweetbay Butterbread (20 oz.), $0.99
Limit 4
$1.50/1 Store Brand Bread wyb Kellogg's Fruit Flavored Snacks, exp. 9/30/11 (Kellogg's Back to School Booklet)
My Essentials Chicken Noodle Soup (10.75 oz.), $0.58
Allen's Canned Vegetables (14.5-15 oz.), 2/$1
My Essentials Cola (12 pk. 12 oz. Cans), 2/$5
Royal Gala or McIntosh Apples, $0.99/lb
80% Lean Ground Chuck (3 lb.) Value Pack, $2.99/lb
$1 off Hamburger Meat and Pepsi, exp. 12/31/11 (Hangtag)
Check out True Couponing for more deals!