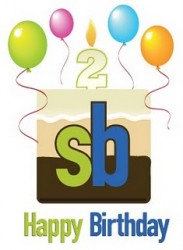 Happy 2nd Birthday to Swag Bucks!!! It's their birthday, but we're the ones getting all of the gifts.
That's right — to celebrate their 2nd birthday and the launch of Swagbucks.com 3.0, Swag Bucks is offering TONS of Swag Code giveaways through their blog, Twitter and Facebook that will give you plenty of opportunities to earn FREE bucks.
If you're not already a member of Swag Bucks, now is the time to join so you can get in on all of the festivities. Plus, Swag Bucks is offering Deal Seeking Mom readers an exclusive code that will net you 60 FREE Swag Bucks when you join instead of the usual 30 Swag Bucks.
To get your 60 FREE Swag Bucks, simply register using the code DSMCODE3. This code is valid through Thursday, March 6th, at 6am PST, but why wait — join now so you can get in on all of the fun!
Basically it's a site that allows you to earn great prizes such as iPhones, iPods, concert tickets, gift cards, and more just for using them to search the Internet. For example, an Amazon.com eGift card is only 450 Swag Bucks!
Why not get paid for something you're already doing anyhow? And don't worry about the quality of the searches — Swag Bucks is powered by Google. Plus, they often offer special Swag Codes for additional points as well, so it's not hard to rack up enough points to redeem often!
How do I sign up?
It's super easy! Just go to Swag Bucks and fill out your information. You'll receive 30 points just for registering to get you started. Use the code above for an additional 30 Swag Bucks, and you'll be well on your way to earning prizes!
Tips for maximizing your Swag Bucks earnings:
Download one of the Swag Bucks browser plugins to earn for the searches you normally do.
Follow @SwagBucks on Twitter for updates on new Swag Codes. (enter these in the left-hand column on your Swag Bucks account page)
Read the Swag Bucks blog for updates on new features as well as info on Swag Codes.
Shop through Swag Bucks to earn SB on purchases.
Those of you that are already earning with Swag Bucks, what kind of prizes have you cashed in for? My favorite is the Amazon Kindle
I bought using GCs I earned through the site.