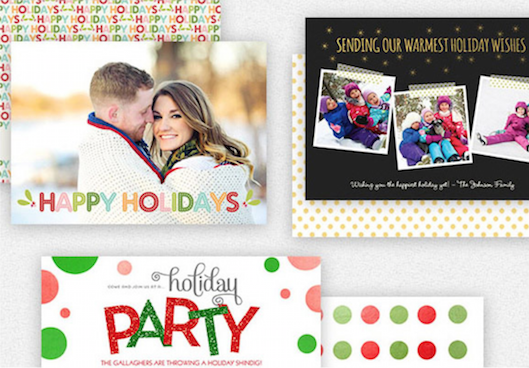 This holiday season you can pick up FREE holiday cards while you're shopping Staples' amazing Black Friday deals! All part of Staples' Make Less Stress, More Savings Happen commitment, they're definitely taking Black Friday to a new level this year…
Staples FREE Holiday Cards w/ Purchase
Make any in-store purchase on Thanksgiving Day or Black Friday, and you'll receive a voucher for 25 FREE 5×7 matte holiday photo cards! You'll receive a voucher for your free cards at checkout, which can be redeemed through December 13th.
Need more than 25 cards? Of course, you can count on Staples to have you covered! Customers will also receive an additional 30 percent off any orders over 25 cards, and you'll receive your photo card order the same day when you order in stores.
If you haven't had a chance to take a peek at Staples' new holiday card designs, you should do so now. They have a seriously impressive and beautiful selection of cards just waiting to be customized.

Staples Black Friday Deals
Staples is launching an unprecedented two weeks of Black Friday deals! The first-ever Black Friday Week for Business starts on November 16 with amazing deals in store and online. Deals for the week of November 16 (while supplies last) include:
$499.99 after easy rebate HP 14" touch screen laptop with i3 Intel Processor (save $150), Staples.com and in-store.
$399.99 Dell Inspiron Windows 7 Desktop with i3 Intel Processor (save $150), Staples.com and in-store.
$89.99 2 TB Toshiba Hard Drive (save $20), Staples.com and in-store.
$21.99 after easy rebate case of Hammermill Copy Paper (save $32), in-store only.
For those of you who are really just here for the Staples Black Friday deals, I won't make you wait any longer… Check out these hot deals that will be available November 27-28 in stores and/or on Staples.com, while supplies last:
Kaspersky Internet Security (1 user) $0.01 after Easy Rebate (reg. $59.99, customer pays $45.01, Easy Rebate for $45), Staples.com and in-store
$79 APPLE TV (reg. $99.99), Staples.com and in-store
$99.99 Asus laptop with Intel Inside Processor (save $150), in-store only
Free Kindle e-reader after easy rebate (reg. $79) with any laptop purchase over $399, in-store only
$39.99 Android 7-inch tablet from JLab, 8GB (save $30), Staples.com and in-store
$99.99 Samsung Galaxy Tablet Lite (save $40), Staples.com and in-store
$25 Visa Prepaid Card by mail with purchase of wearable tech (including Fitbit and Jawbone), Staples.com and in-store
Check out the Staples Black Friday ad for dozens more incredible deals on laptops, tablets and more!
Not sure what time you need to be in line to snag these awesome savings? Visit Staples.com for local store listings and hours.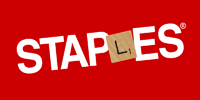 Staples Beyond Black Friday
Even after Black Friday is in the books, Staples will be helping you make less stress happen every day with:
Extended holiday hours in most locations. Visit www.staples.com for listings and hours.
Price Match Guarantee both in-store and online.
Risk Free Purchase with an extended holiday return policy.
New Staples Mobile App is faster with redesigned Weekly Ad page to showcase the best in-store deals and ability to view deals by category.
Daily Deals on the Staples.com online storefront.
Free Shipping from Staples.com for Staples Rewards members plus up to 5 percent back in Staples Rewards on everything including technology.
Ship 7 Days a Week with package drop off and associate assistance.
Shop from Staples.com kiosk for items not found in store.
So which deal is going to have you lining up bright and early to shop at Staples this year?
I'm so pleased to be partnering with Staples again this holiday season as part of the Staples Holiday Council! Their ultimate goal this holiday season is to "make less stress, more savings happen." Staples will be offering great deals (including exclusive offers!) throughout the holiday season, helping you get more for less!
This post is brought to you by Staples. All opinions are 100% mine.