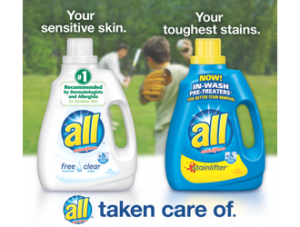 Here's a new offer to save on All Laundry Detergent!  SavingStar has a new $5 off $15 in All Laundry Detergent offer available – this means when you spend $15 on select All Laundry Detergent products you'll get $5 back from SavingsStar!  Here's how to load this to your store cards and be all set for this rebate:
Login or Register with SavingStar.
Click the orange "I Want This" on the All Laundry Detergent rebate offer.
Take a minute to review and add extra offers, including ones for Ore-Idea and StarKist!
Combine this rebate offer with a sale at your favorite grocery or drug store to get and even better deal.
Your $5 rebate will be deposited into your SavingStar account within 30 days (when you have spent $15 on All Laundry Detergent).
Once you have this rebate offer loaded to your account, here's a deal to pick up four bags of All Laundry Mighty Pacs for $1.75 per bag after coupons and your SavingStar rebate!  CVS will have the All Mighty Pacs on sale, Buy 1 Get 1 FREE starting Sunday!  Here's the deal that starts 2/17 at CVS:
All Laundry Mighty Pacs (24 ct.), $7.99 ea.
B1G1 FREE CVS Store Sale
$2/2 all Laundry Detergent product printable coupon (Facebook coupon)
$5/$15 All You Laundry Detergent (SavingStar Deposit)
$6.98 wyb 4 ($1.75 each) after coupons and rebate!
Thanks, In Good Cents and Common Sense With Money!
New to SavingStar? Once you login, you can click on 'My Account' and then 'My Shopping Cards' to to register your grocery and drug store loyalty cards.  Your eCoupons will be automatically linked to these store cards when you activate an offer.  Once your account has a minimum of $5, you can select to have your rebate sent to your bank account, your papal account, or even get an Amazon gift card!