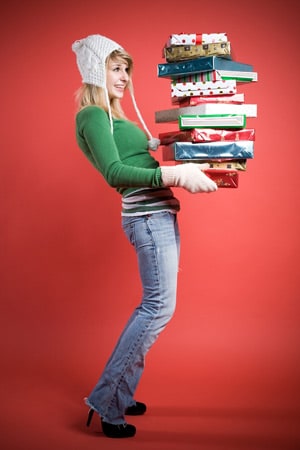 As I mentioned last week, I'm really excited to be the deals expert on the Staples Holiday Council this year! Staples may not be the first store that comes to mind when you're searching for holiday deals, but I was pleasantly surprised to find that they really do have a wide variety of products available, making it easy to find the perfect gift for everyone on your list.
And not only can you find the perfect gift, but they have some pretty great ways to get that perfect gift at the perfect price that I want to make you aware of:
Weekly Deals — Be sure to check the weekly ad for special deals that are available all week long at Staples. Look for the new ad online each Thursday to start planning for the upcoming week's sale items!
Daily Deals — In addition to the weekly deals, Staples also offers special online daily deals. These deals are available for a 24-hour period, while supplies last only, so don't wait if you spy an item on your shopping list!
Staples Rewards —  Join the Staples Rewards program to receive 5% back in rewards on everything including technology, plus score FREE shipping on Staples.com!
Price Matching — Many stores offer price matching; that's really nothing new. However, Staples takes their price matching policy one step further by matching not only the in store prices for competitors but also the online prices for items that are sold and shipped by one of the competitors.  For Staples.com price match, customers can call 800-333-3330 and visit Staples.com for exact details.
Black Friday — At most retailers, Black Friday is a one day event, but this year at Staples, there will be an entire WEEK of Black Friday Deals!
Want a sneak peek at some of the #PerfectGifts Staples will be offering over the next few weeks? Here's some of the Hot Black Friday deals you can look forward to:
Kindle Fire with Special Offers for $79.99 (save $80)
HP Pavilion Chromebook for $179.99 (save $150)
Toshiba C55D-A5382 Laptop for $249.99 (save $200)
Samsung Galaxy S4 mobile phone for $49.99 after savings with new 2-year contract agreement or qualified 2-year upgrade. Available on Staples.com and select stores.
What items in particular are you hoping to find a deal on this holiday season?
I'm thrilled to be on the Staples Holiday Council this holiday season, bringing you fantastic deals to assist you in finding the perfect gift for every person on your list. Staples will be offering great deals (including exclusive offers!) throughout the holiday season, helping you get more for less! For more holiday tips be sure to check out the Staples Holiday Center.
This post is brought to you by Staples. All opinions are 100% mine.