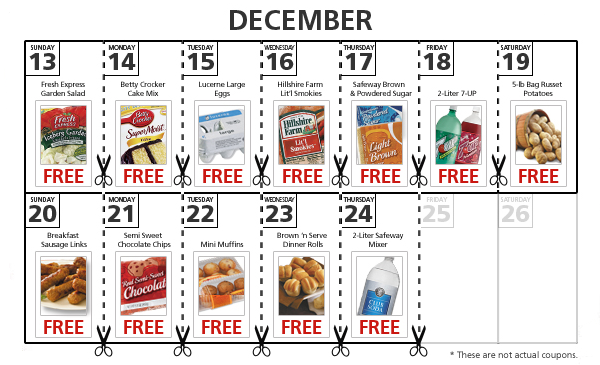 Safeway and their affiliated stores are offering a FREE product coupon every day through December 24th. These coupons are valid with a $20 purchase.
Printable coupon links by store:
Coupons available:
12/13: Fresh Express Salad
12/14: Betty Crocker Cake Mix
12/15: Dozen Lucerne Eggs
12/16: Hillshire Farm Lit'l Smokies
12/17: Safeway Brown & Powdered Sugar
12/18: 2-Liter 7UP
12/19: Russet Potatoes 5-lb. Bag
12/20: Breakfast Sausage Links
12/21: Semi Sweet Chocolate Chips
12/22: Mini Muffins
12/23: Brown 'n Serve Dinner Rolls
12/24: 2-liter Safeway Mixer
Thanks, Mommy's Wish List!