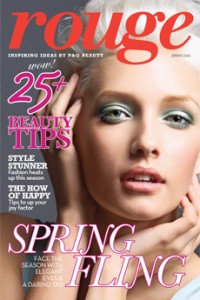 Rouge magazine is a FREE quarterly publication produced by Procter & Gamble that shares beauty news, how-tos, advice, fashion, etc. But even better, there are always some hot P&G coupons at the end of each issue. Of course, you know the coupons are my favorite part!
Here are the latest coupons in the Spring 2010 issue:
$2/1 Select CoverGirl Simply Ageless Item
$10/1 Crest 3D White Strips
$1/1 Select Crest or Oral-B Products
$1/1 Natural Instincts Product
$1/1 Olay Body Wash or Lotion
$1/1 Olay Facial Moisturizer
$1/1 Perfect 10 or Nice 'n Easy
$1/1 Secret Soothing Effects
$2/1 Select Venus or Breeze Products
$1/1 Zest, Ivory or Safeguard Bar Soap
All coupons expire 6/30/10.
Subscribe now so you can be sure to receive the next issue!