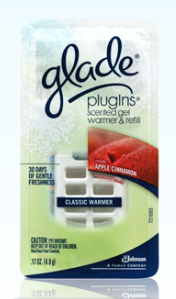 I just received an email from [email protected] that shared some hot new Glade printable coupons! These should pair nicely with the SC Johnson mail-in rebate I posted yesterday.
Coupons available:
BOGO Glade PlugIns Scented Gel Warmer
$1/2 Glade PlugIns Scented Gel Refills
$1/2 Glade PlugIns Scented Oil Refills
Print these coupons here.
If you want to be the first to hear about hot new Glade and other SC Johnson brand coupons, I recommend joining the [email protected] email list.
As I've mentioned in the past, once a month, members also have the opportunity to sign up to receive a package containing some of their latest products and great coupons like this one for Pledge. I've received an OFF! Clip-on, new Ziploc products, an OFF! lantern and more!