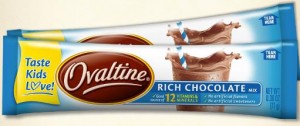 "Like" Ovaltine on Facebook and request your Rich Chocolate Ovaltine FREE Sample.  Click the "Free Ovaltine" tab and complete the form to request your FREE Ovaltine Sample.  There's a limit of one sample packet (includes two stick samples) per person.  Your FREE Ovaltine Sticks sample should arrive in 6 to 8 weeks.
(Thanks, Cleverly Simple!)
While you're there, be sure to join more than 118,610 others and become a fan of Deal Seeking Mom. You'll find more conversation, additional deals and a peek at the freebies I receive in the mail!