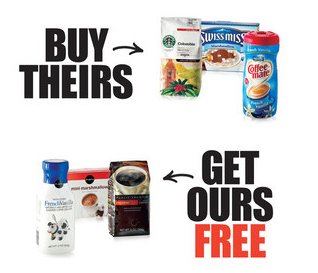 Publix is doing kind of a fun promotion right now. This week when you buy the three brand name products specified below, you can also get their Publix house brand counterparts for FREE!
BUY Swiss Miss Hot Cocoa, GET Publix Hot Cocoa
BUY Coffee-Mate Creamer, GET Publix Creamer
$0.75/1 Coffee-mate Liquid or Powder printable
$0.50/1 Coffee-Mate Powder Creamer, exp. 5-7-10 (RP 2/7/10)
BUY Starbucks Coffee, GET Publix Coffee
$1.50/1 Starbucks Coffee (Grape Magazine at Publix)
$1/1 Starbucks Coffee, exp. 2-28-10 (ALL YOU Dec '09)
$1/1 Starbucks Coffee Bag, exp. 4-30-10 (ALL YOU Mar '10)
Note that the price of the free products will not be deducted automatically. You'll need to let the cashier know that you're taking part in the special offer. Limit one of each product per transaction.
Thanks, Southern Savers!