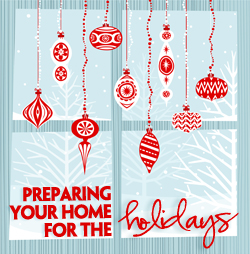 Mandi of Life… Your Way and I have teamed up to bring you a special series over the next two weeks called Preparing Your Home for the Holidays.
I love this quote from Mandi's master bedroom and guest room printable:
Your bedroom should be a haven so that you can truly rest and recharge.
Up until recently that was probably the furthest thing from what our bedroom was. Though we've lived in our house for nearly six years now, our bedroom still more closely resembled a college dorm room than a restful haven. So my husband and I have made it a priority to attempt to make our personal space inviting and cozy.
This isn't easy since we outgrew our overall living space so quickly after moving in, but we're finding ways to creatively stretch our living area until we're ready to purchase a larger home in a year or two.
Our biggest clutter challenges in the bedroom:
Miscellaneous clutter on dressers.
Laundry — while I don't mind doing it, I'm horrible at folding, hanging, and putting it away.
My current magazine issues needed a home.
:: Miscellaneous Clutter
We don't have a lot of knick-knacks and such sitting out in our bedroom. They just invite dust and need frequent cleaning. However, the flip-side of this is that there's plenty of room for "stuff" to just accumulate.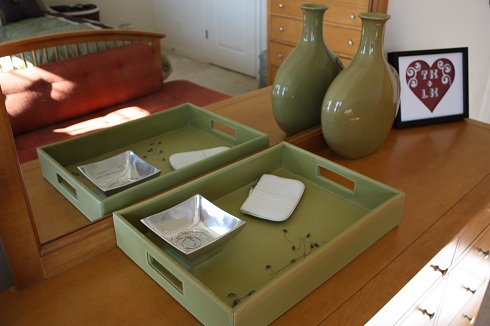 I've found that trays like this help to contain the clutter and make it look a little neater. If it doesn't fit in the tray, it gets put away. And if the tray starts looking messy, then it's time to find a home for everything or put it in its proper place.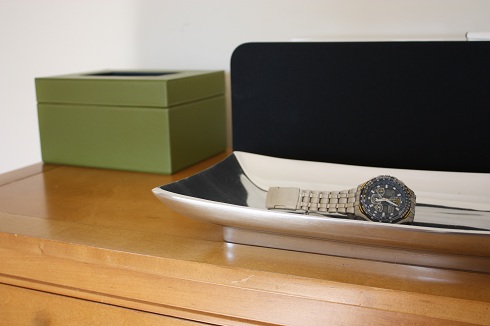 This concept also works for my husband, but I gave him a silver bowl that's a little more masculine for his use.
:: Keeping Up With The Laundry
What you don't see in these pictures is the mounds of laundry that I had to put away before I could even begin dusting and decluttering. Laundry is a big pain point in our house. Well, it's not so much the washing of the clothes that's a struggle — it's the folding, hanging, and putting away of all of the clean clothing. The baskets always seem to migrate their way to the master bedroom, and often they'll sit there for days.
Consciously I know that this is just creating extra work — extra work in searching for the coordinating items for an outfit, the mate to a sock, ironing the now wrinkled clothing, etc. My latest attempt to get this under control is just to sort the clothes into baskets by room and enlist the kids to put away their own clothing. This is somewhat of a battle, but it seems to be working so far. Suggestions here would be greatly appreciated!
:: A Home For The Magazines
I like to read at bedtime. Many days I don't have much "me" time, but I always know I'll have those few minutes before dozing off for the night to page through a magazine, so I tend to stack them on my nightstand. But then I often tear out interesting articles and create quite a mess.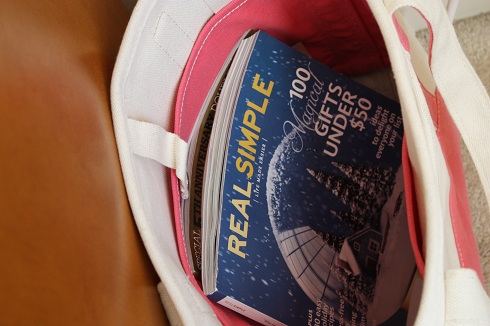 My solution was to use a simple tote to hold all of my current unread magazine issues. I carry it up and downstairs with me every day because I get new issues pretty frequently since I've been able to sign up for so many free magazine subscriptions. I can just pull out any issues that I've read for recycling or to pass on, file any articles or notes that I've torn out, and then put any new issues in the tote.
:: Deep Cleaning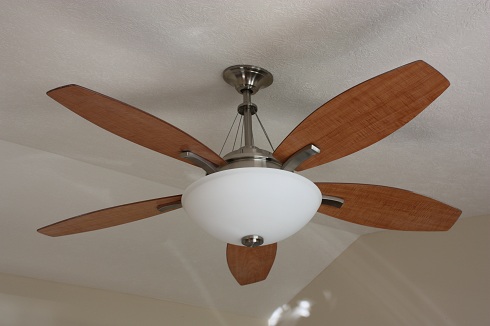 After looking over Mandi's cleaning tips, it occurred to me that it's been a good while since we cleaned our ceiling fan. It's usually on all the time to cool the upstairs, so I hadn't really noticed just how grimey it was. So we cleaned it up and also reversed the direction to help keep the upstairs an even temperature over the winter. Ceiling fans should turn clockwise in the winter and counterclockwi!se in the summer.
I feel like we still have a ways to go in "making our bedroom a haven," but I'm just thrilled that we've made some progress
You can join us in Preparing Your Home For The Holidays over the next couple of weeks by using the handy printable checklists that Mandi has created for each room of the house! And of course we'd love to hear your tips and tricks for getting your home ready for the holiday season.