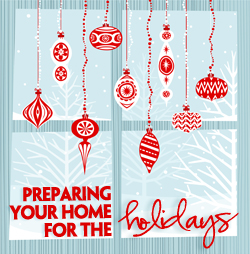 Mandi of Life… Your Way and I have teamed up to bring you a special series over the next two weeks called Preparing Your Home for the Holidays.
As I'm sure it is for many of you, our kitchen is the hub of our home. It's not only where we prepare food; it's also where we do homework, eat our meals, and just hang out in general.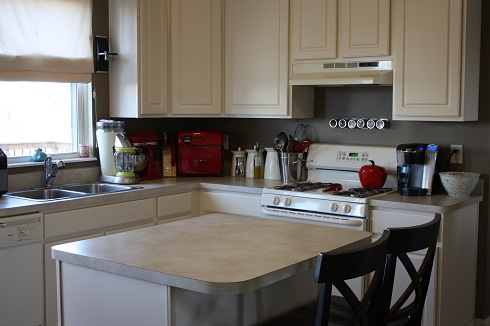 As such, it's an area that I struggle to keep clean. Our island seems to accumulate miscellaneous "stuff", and it feels like every time I finish doing the dishes, the sink is piled high just a short time later. Our children do help with the chores, but there are still some tasks that slide far too long, so the real challenge for this room will be the maintenance.
Areas I focused on in the kitchen:
The area under our sink was very cluttered with unused cleaning products.
The pantry was relatively clean but needed tweaking.
I hadn't cleaned out my spice cabinet in ages.
My coffee zone needed a once over.
I have to give a big thanks to my hubby who wiped down the cabinets and all of the baseboards for me while I was cleaning up my trouble zones. What a guy!
:: Under the Sink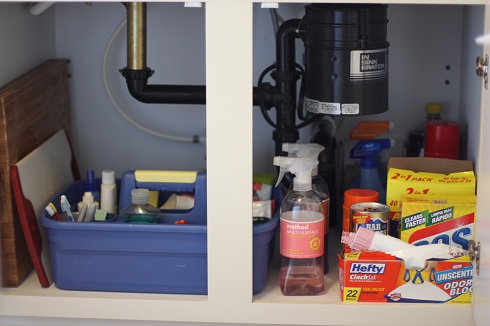 Since we've recently moved to using more natural cleaners and microfiber cloths for the bulk of our cleaning needs, my cleaning products stockpile has become kind of unruly and the area under our sink was filled with products that we no longer use. So I took this opportunity to tidy this area up, disposing of anything that wasn't worth passing on and moving unopened products to our donate box. The storage caddy is great for organizing the small odds and ends that were otherwise just strewn about the cabinet.
:: Straightening the Pantry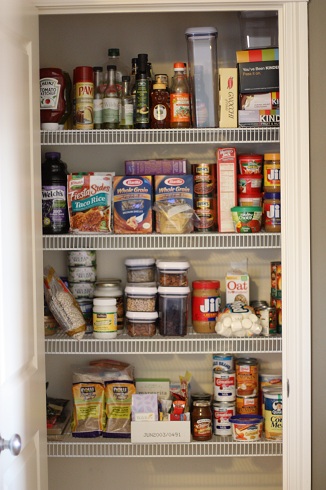 My pantry was in relatively good shape since I did a big overhaul a few months ago, so all I needed to do was move things around a bit. I did find a few items that I could donate, so that freed up a little space. And we recently moved several items, like our soups, canned beans, and applesauce, out to our stockpile shelving that's in the garage to alleviate some of the crowding we were experiencing.
I discovered that one of my little monkeys has apparently been using my potato and onion bins as a step stool and cracked them, so I need to replace those ASAP.
:: Spice Cabinet Overhaul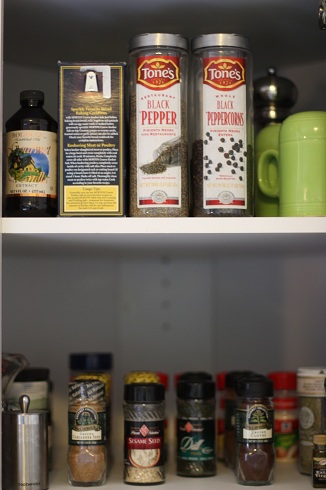 My spice cabinet was in quite a state. As you can see, I could really use either a tiered shelf or perhaps one of those round spinning caddies to make better use of this space.
I was surprised to find a number of outdated baking ingredients and spices in the back, so this is definitely an area that I need to stay on top of more. I have an idea for using up some old pumpkin pie spices, but does anyone have a suggestion for what I can do with a very large old bottle of pure vanilla extract? I hate to just toss it out…
Lesson learned — we'd been buying a lot of spices and baking ingredients in bulk at Sam's Club because the prices were hard to pass up, but we're not using them all at a rate that justifies the purchase. We'll be more conscientious about what we should buy in bulk and what we should buy smaller in the future.
:: Cleaning the Coffee Zone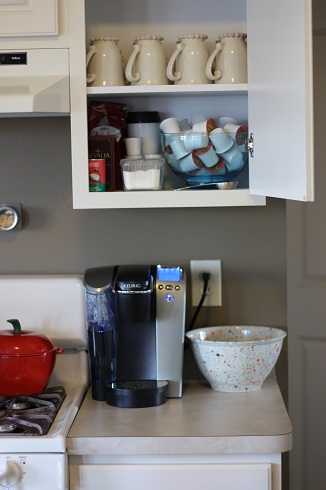 I was pleased to see that one of Mandi's suggestions for organizing a kitchen is to create zones for areas in a way that makes sense for your needs. This is something I had already implemented in our kitchen with the coffee zone that I created. It's so handy to have everything I need right above my coffee maker, and this space is also ideally located within arm's length of our refrigerator so I can easily grab my cream!
As I mentioned earlier, the real challenge for me is going to be in the maintenance. I recognize what my hot spots are, and we'll be ensuring that these areas are cleaned up nightly before we all head to bed. Wish me luck!
You can join us in Preparing Your Home For The Holidays over the next couple of weeks by using the handy printable checklists that Mandi has created for each room of the house! And of course we'd love to hear your tips and tricks for getting your home ready for the holiday season.