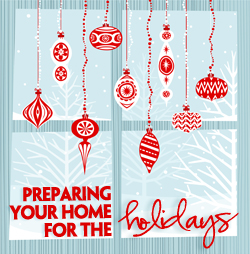 Mandi of Life… Your Way and I have teamed up to bring you a special series over the next two weeks called Preparing Your Home for the Holidays.
On any given fall Saturday afternoon, you're bound to find our family tailgating in our garage, watching the Ohio State Buckeyes play football with friends and neighbors while the kids play out back. This has been an ongoing tradition, so we actually overhauled our garage back at the end of the summer.
And we really did overhaul it then. Our garage was full of miscellaneous empty boxes and just plain junk that wasn't worth donating. We considered renting a dumpster, but then I stumbled across this new service called The Bagster. It's basically a dumpster service on a smaller scale — you just purchase a bag from Home Depot, Lowe's, etc. for about $30, and then you schedule a pickup when you have it filled!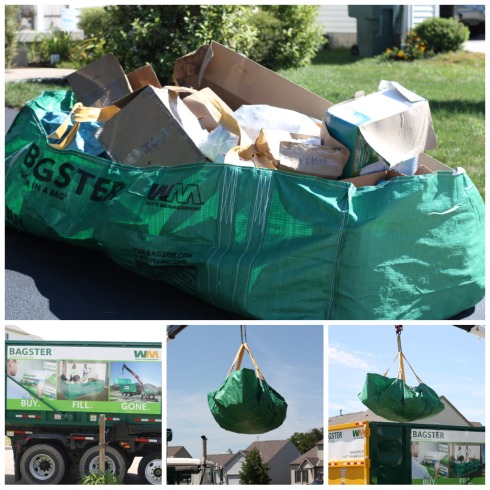 We didn't really need a huge dumpster, and The Bagster was less than half the price we would have paid for one even including the pickup fee.
So how about a quick tour of our garage now?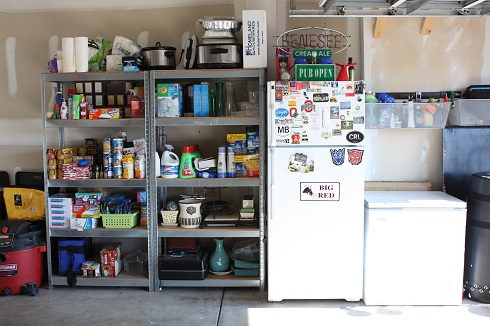 This is my stockpile shelving and our extra refrigerator and deep freezer. I'm not sure how we managed without the refrigerator previously — we probably made far too many trips to the store because these kids go through milk like crazy!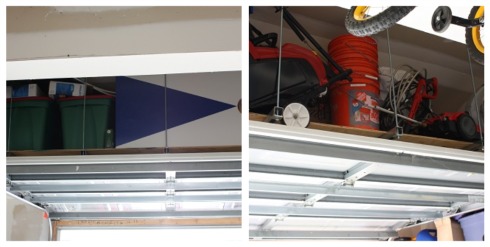 This is one of my favorite features that my handy husband built. We had a ton of unused space above our garage door, so he installed shelving for items that we don't need access to frequently, like our Christmas lights, snow blower, pressure washer, etc.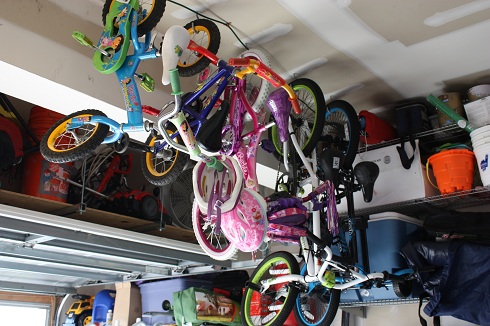 I also especially love these hooks that he installed for the kids' bikes. Five bikes can really eat up a lot of space in a garage, so this is a convenient way to keep them out of the way but still accessible for when they get the itch to ride.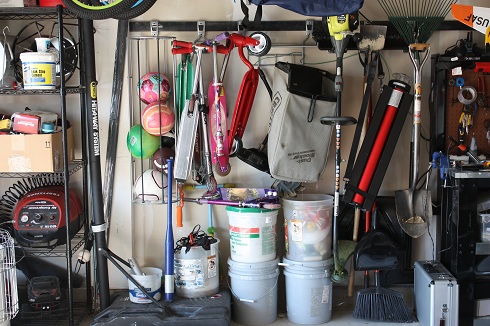 Rubbermaid makes some fantastic garage organization solutions, including this track that has many different hangers. The ball storage unit is awesome, and it's great to be able to hang tools exactly where you need them.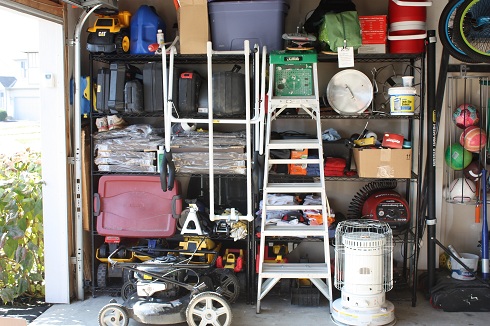 Keeping our garage in this condition has actually been pretty easy. Once everything has a home created for it, it's just a matter of ensuring that you return it to its proper place when you use it. Just a quick sweep, and our garage was photo ready!
You can join us in Preparing Your Home For The Holidays over the next couple of weeks by using the handy printable checklists that Mandi has created for each room of the house! And of course we'd love to hear your tips and tricks for getting your home ready for the holiday season.