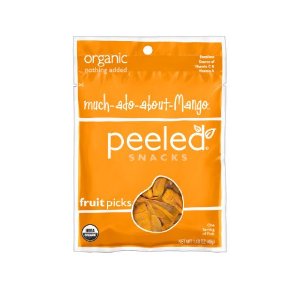 Here's a super deal on a healthy organic snack idea – the mango is my favorite!  Right now on Amazon you can get these yummy Peeled Snacks (much-ado-about-Mango, 1.4 oz. bags) Pack of 10
or get crazy with the Peeled Banan-A-peel Snacks
for $14.42 each – that's only $1.42 a bag! You can enjoy FREE Super Saver Shipping on your order over $25 or with your Amazon Prime membership.  Here's the deal:
Peeled Snacks much-ado-about-Mango, 1.4-Ounce Bags (Pack of 10)
, $14.99 ea.
Peeled Snacks Banan-A-peel, 1.4-Ounce Bags (Pack of 10)
, $14.99 ea.
Save 5% with Subscribe & Save
$14.24 with FREE Super Saver Shipping!
PLUS there's a special offer available right now too – you can get a FREE sample of Campbell's Skillet Sauces, Toasted Sesame with Garlic and Ginger, 9-Ounce Pouches (discount at check-out). Click on "Add Both To Cart" on the product description page to receive your FREE sample!
Thanks, Jungle Deals & Steals!