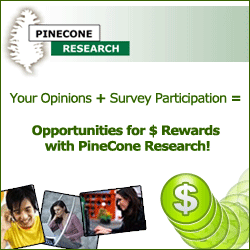 Update: They've reached their target number of signups for the day. I'll let you know if I see it open again!
The Pinecone Research application is open again right now!
Pinecone pays in a timely manner at a rate of $3 per survey via check or Paypal, and they often have product tests that go along with the surveys, so they're definitely one of the best survey companies to get on board with.
PLEASE NOTE: If you've applied to Pinecone recently, do not fill out the application form again. I've been working closely with them, and they let me know that this creates more work for them as they process the applications when they have to weed out multiple registrations.