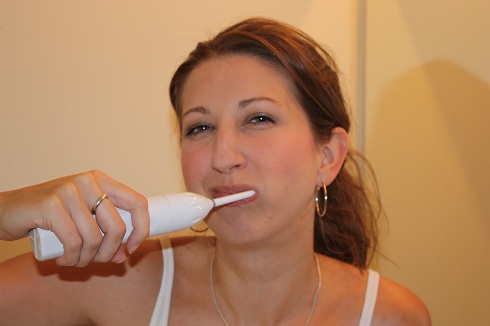 Well, I certainly can't say that I ever expected to post a picture on here of me brushing my teeth…but yes, that's me — brushing me teeth.
Our family was recently selected to participate in the Sonicare 30 Days to Better Teeth Challenge, so we'll be test driving the new Sonicare 2 Handle 5350 Sonic Power Toothbrush and the Sonicare for Kids HX6311/02 Rechargeable Toothbrush courtesy of Sonicare and Collective Bias.
So what are some benefits that we can expect to see over the next 30 days?
Sonicare's technology provides superior plaque removal, because it cleans in a way that a manual toothbrush can't.
Philips Sonicare reduces gum disease, but at the same time, it's gentle on your teeth and gums.
Sonicare removes everyday coffee, tea and tobacco stains. So your teeth will be naturally whiter in 28 days or your money back.
Follow along in my Whrrl story as we purchase our brushes, get them setup, and use them for the first time:


Of course I had to buy my 2-year-old his own special Diego toothbrush. The Sonicare for Kids is intended for ages 4 and up, but I didn't want him to miss out on all of the fun!
Other moms participating in this challenge are:
Check out all of the #SonicareChallenge action on Twitter, Whrrl, and SonicareChallenge.com!