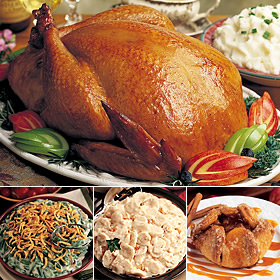 I'm more of a homemade Thanksgiving dinner girl myself, as I'm sure many of you are as well, but sometimes that's just not feasible or the thought of it is just so overwhelming that we must look for other alternatives.
I did just this last year when I was pregnant with baby #5.
I was completely exhausted every day, and I knew my usual homemade Thanksgiving Dinner wasn't an event that I could pull off successfully, so we ordered the Turkey and Trimmings Dinner
from Omaha Steaks. I was pleasantly surprised at just how good the food was, and it really made our Thanksgiving a lot more enjoyable because I didn't spend all day slaving in the kitchen.
At $69.99 plus shipping this certainly wasn't the most frugal alternative, but the food was excellent, and I felt good about serving it to my family.
The meal comes with the following items.
1 (10 lb.) Whole Basted Turkey
2 (12 oz.) Green Bean Casseroles
2 (14 oz.) Scalloped Potatoes
6 (4 oz.) Caramel Apple Tartlets
I won't be ordering the Turkey and Trimmings Dinner
year because I won a turkey in a contest, but I would certainly consider it as an alternative again in the future. I know we all feel some pressure to be everything to everyone during the holidays, and if it means spending a little more for convenience in exchange for more time with my family, that's a tradeoff I'm willing to make.
Do you cook Thanksgiving Dinner from scratch? Do you have any tips to make it less overwhelming? I'd love to hear from you all!