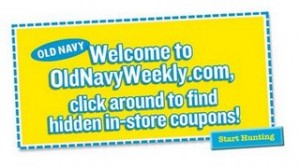 When is the next OldNavyWeekly.com update? My hunch is it will be tonight or early tomorrow morning, but so far we haven't been given any information on the M80 Newsroom.
Update from the M80 Newsroom:
We've got fabulous news at OldNavyWeekly.com! This week we'll be hiding the $75 off $100 coupon again!

So roll up your stylish sleeves and get ready for some serious hunting. If you're quick enough, you could find one for yourself and share one with a Facebook friend too! Happy hunting!
Shannon at For The Mommas shared that backpacks will be $9 on 7/19, so this would be a great deal with a good coupon!
While you're waiting, check out my good friend A Cowboy's Wife to enter to win one of ten $50 off a $100 Old Navy purchase coupons that will be valid 7/17-7/23!!! But hurry – it's only open until midnight CST tonight.
Please note that there were a few negative comments last time I linked to one of these giveaways. These blogs are given the coupons by Old Navy PR, much as I was a few weeks ago, so they are not doing anything dishonest to get them. I really hate that people would even speculate that, so I wanted to make it absolutely clear.
Have fun chatting while you're waiting!