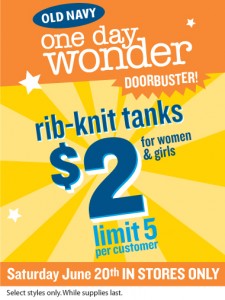 Be at Old Navy bright and early this Saturday morning to snag women's and girls tank tops for just $2 – 50 color choices including solid, stripe, print and embellished! Limit 5 per customer.
UPDATE: Check out the 2010 Old Navy Tanks Sale here.
As for OldNavyWeekly.com, the latest from the M80 Newsroom is this:
We know you've discovered that the expiration dates on the coupons are a giveaway for when the site launches the following week. But not this time! We're going to keep you on your pretty little toes. So, print out any coupons you've already found and be ready to begin hunting for more fab $75 coupons at any moment this week.
So be prepared for a refresh at any time! In the meantime, stay tuned for a very special Old Navy Giveaway here on Deal Seeking Mom . . .