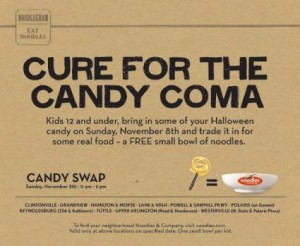 I don't know about you all, but I'm getting darn tired of my kids sneaking Halloween candy day in and day out. I have yet to find a hiding place that's safe from their wiley ways!
My local readers will be glad to know that Noodles & Company is offering a way to turn some of that candy into some real food with their candy swap taking place this Sunday, November 8th. Just take some of your candy into a participating location, and they'll swap it out for a FREE small bowl of noodles, one small bowl per kid!
Participating locations:
Clintonville
Grandview
Hamilton & Horse
Lane & High
Powell & Sawmill Pkwy.
Polaris
Reynoldsburg
Tuttle
Upper Arlington
Westerville
I'll admit I haven't tried this restaurant, but I just peeked at the menu and it sounds yummy. I'd love to hear what you think if you've eaten there!
Thanks, Suzy Said!