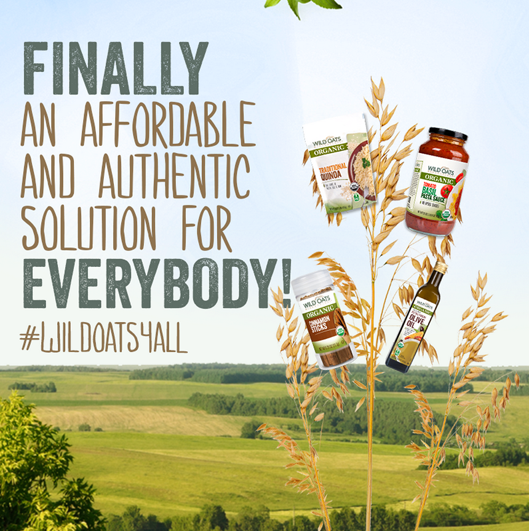 As I'm sure you know, buying organic products can put a quite a dent in your pocket. Even when using coupons, there's often a significant price premium on organic food items over their conventional counterparts, which often forces us, as consumers, to make some difficult choices as to which items are worth the extra money and where a compromise makes sense. However, I'm happy to share that these choices may be fewer and further between now…
In case you missed the announcement last week, Walmart will start carrying Wild Oats organic food items at a 25% or more cost savings over national brand organic products starting this month! This is pretty exciting news for me, because the availability of organic products at Walmart, up until now, has been very little to none in my area.
If you're not familiar with Wild Oats, Wild Oats Marketplace Organic adheres to USDA guidelines for organic certification and includes everything from canned vegetables starting at $0.88 to a full range of spices such as paprika, curry powder and ground cinnamon starting at $2.48. Not only are Wild Oats products USDA-certified, Wild Oats also has a list of 125 "no-nos" that it refuses to include in and of its products — like artificial sweeteners, artificial preservatives, hydrogenated fats and more.
Just check out the savings below: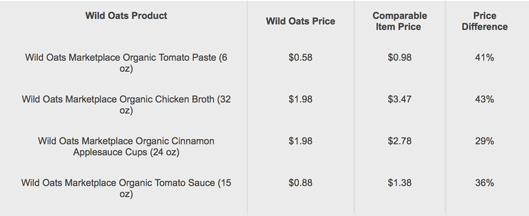 I'm particularly excited to try the chicken broth. Good organic chicken broth is hard to come by without paying a fortune, so I'm really hoping we'll like the Wild Oats brand enough to replace my significantly more expensive current favorite brand! Oh, and the olive oil too. I think the hardest part will be figuring out which products I want to try first!
Which Wild Oats product are you most excited about trying?
In addition to offering the line in stores, you'll also be able to purchase Wild Oats on Walmart.com later this summer.