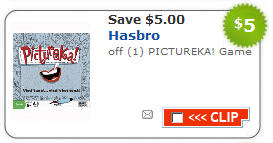 There are tons of hot new Hasbro games and toys printable coupons available this morning! Two in particular should score us a fantastic deal on the travel sizes at Target and Walmart.
Pictureka Travel Game, psa $5.99
$5/1 Pictureka Game printable
As low as $0.99 after coupon!
Monopoly Travel Game, $5.99
$4/1 Monopoly Game printable
$1.99 after coupon!
Note: I've found these on a rack in the toy section and on an endcap near the luggage, so check both locations.
(Thanks, Common Sense With Money!)
More Hasbro Toys and Games Coupons:
It seems like the B1G1 My Little Pony coupon should make for a good deal. Do you know of any good sales this week that we can match up with these coupons?