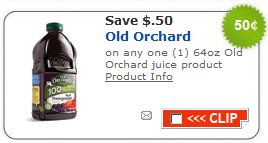 There's a new $0.50/1 Old Orchard Juice printable coupon available. This particular coupon tends to go very quickly each month because you can get Old Orchard juice for a real bargain when it's on sale if your store doubles coupons!
More new Coupons.com printable coupons:
You'll find all of these coupons and much more in the DSM coupon Database!