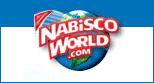 The Nabisco Back To School coupon booklet is available for request again. I was able to just request another one, even though I already requested and received one back in July.
This coupon is full of $1/2 Nabisco Crackers and/or Cookies coupons that are perfect for matching up with the Kraft Holiday Crackers $10 MIR!
Thanks, Couponing To Disney!