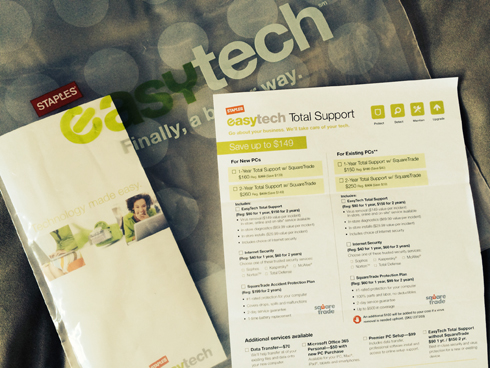 A couple of months ago I shared a quick overview of the Staples EasyTech Total Support program. If you missed it, you'll definitely want to read up on it — it's a must-have service for parents that have to share a computer with their kids.
Besides offering anti-virus protection and internet security, EasyTech Total Support also provides an accident protection program that covers drops, spills and malfunctions! It even includes a 1-time battery replacement, all for the low price of $160 for a new computer. Really wishing we'd picked up this plan before my kids spilled a bowl of milk on one of our laptops… It's just a useless hunk of metal currently.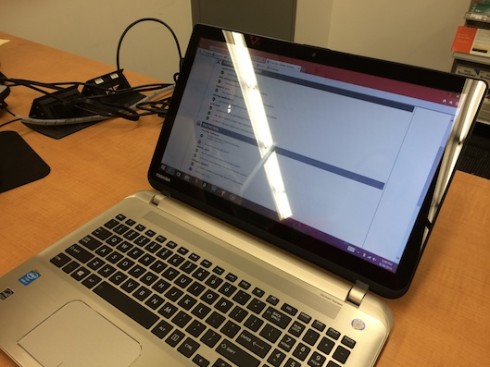 Lesson learned, though — we took our new laptop to Staples to learn firsthand about the EasyTech Total Support service. Many of you probably know that I'm pretty attached to my MacBook Pro, but the deal on this Toshiba laptop was too good to pass up. The downside? I have no clue what I'm doing when it comes to Windows 8. It's just not intuitive for me at. all. and I hated that I had no idea how to get back to my desktop, even with the touchscreen features.
Luckily the nice supervisor that was working the EasyTech Total Support counter was super patient and took the time to explain all of the ins and outs of Windows 8 to me, even giving me a pamphlet with handwritten keyboard shortcuts so I could find my way around. I was impressed at how he went the extra mile to make sure that my experience was positive.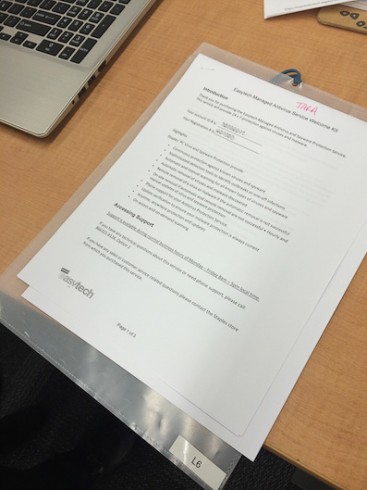 Because I took my laptop over for my EasyTech installation later in the day, I did have to leave it with them overnight. The technician ran a complete diagnostics, removed some minor viruses that must have come with some of the bloatware that was preinstalled, and also installed and setup my antivirus and spyware protection software. He also took the time to remove and uninstall some of those bloatware installations that I'd mentioned I would never use, freeing up more memory.
My laptop was ready for pickup early the next day. Once again, the supervisor took the time to go through all of the details on the software that was installed and the benefits of the EasyTech Total Support package, making sure that I was comfortable using everything and that I knew how to check the diagnostics reporting in the antivirus software.
I was more than happy with my Staples EasyTech Totally Support experience, and I'd highly recommend it. When you consider that the cost of service for one virus incident is $149, you can see what a great value this is. The accident protection plan alone makes it worth it for me, and you get so much more!
This post is brought to you by Staples. All opinions are 100% mine.