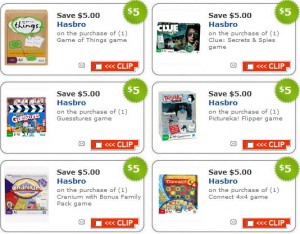 Hasbro just released $30 in new game coupons! These don't expire until 1/31/10, so surely we'll find some great sales to pair them up with before then.
Coupons include:
$5/1 Game of Things
$5/1 Guesstures
$5/1 Cranium w/ Bonus Family Pack
$5/1 Clue: Secrets & Spies
$5/1 Pictureka! Flipper
$5/1 Connect 4×4
Thanks, Dealicious Mom!