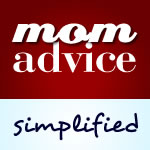 I had the honor of being a guest on MomAdvice Simplified yesterday, the Blog Talk Radio show hosted by my good friend Amy of MomAdvice.com!
I shared tips on organizing your coupons, how to maximize your savings, and where to find the best coupons. I highly encourage you to listen to the replay because Amy taught me a thing or two as well about shopping at Bed, Bath & Beyond!
I had good intentions on posting this yesterday so you all could listen live, but my schedule has been very off this week with my oldest boys on spring break.