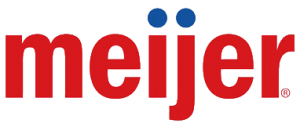 Katie blogs at Cincinnati Cents, where she highlights weekly store deals, freebies, family-friendly events, and bargains. She strives to help others stretch their hard-earned dollars and live on less.

New to couponing? Read up on what all of these abbreviations mean first in my quick reference guide.

Read more about Meijer's corporate coupon policy to make the most of these deals!

Because Meijer coupon policies vary across different regions, you should verify your local store's policy on doubling coupons. All matchups include double coupons up to $0.50, and we've noted where the final price will be lower for stores that double up to $0.99.
Meijer is featuring a one day Super Sale on Saturday, February 20th!

:: Browse by Category
Grocery
Produce–
Meat/Seafood
Frozen
Beverages
Health & Beauty
Household Cleaning
Pet Care
Miscellaneous

:: Grocery
B1G2 Thomas' English Muffins (6 ct.) or Bagels
$1/1 Select Thomas' Products, exp. 5-31 (ALL YOU Mar '10)
Final price varies!
:: Produce
Chiquita Bananas, $0.33/lb.
:: Meat/Seafood
Fresh Boneless Whole Pork Tenderloin, $1.99/lb.
:: Frozen
Tyson Family Pack Chicken (22-32 oz.), $4.99
:: Beverages
Pepsi, Diet Pepsi, or Mt. Dew Bottles (6 ct.), 4/$10
Limit 4
:: Health & Beauty
Germ X Hand Sanitizer (8 oz.), 2/$3
Colgate Toothpaste or Toothbrush, $1.97 (Limit 4)
— Total Advanced Toothpaste
— Fresh Max Toothpaste
— Liquid Gels
— 360 Toothbrush
— Max Fresh Toothbrush
$1/1 Colgate 360 ActiFlex Toothbrush printable
$0.75/1 Select Colgate Toothpastes, exp. 3-13-10 (SS 02/21/10)
$1/1 Colgate Total Toothpaste, exp. 2-28-10 (ALL YOU Jan '10)
**More Colgate coupons
As low as $0.47 to $0.97 each after doubled coupon*
Suave Shampoo and Conditioner (15 oz.), $0.66
Limit 4
:: Household Cleaning
Arm & Hammer Liquid Laundry Detergent (50 oz.), $2.49
Limit 4
:: Pet Care
Meijer Natural Wild Bird Feed (40 lbs.), $8.99
:: Miscellaneous
Get $5 OYNO wyb any Turbo Tax or H&R Block Tax Software
Elegance Jumbo Bed Pillow, $4.99
Transformers Scout Action Figure, $5.49
Sag Harbor Misses' and Women's Apparel, 40% off
Wrangler Men's Regular or Relaxed Fit Jeans, $13.99
All Men's Socks, B1G1 50% off
Women's Rain Boots, $15
New Balance Men's or Women's Athletic Shoes, $39.99
Fresh Floral Bouquet, $4.99