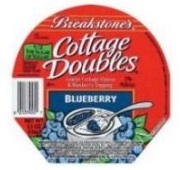 The FREE Breakstone Cottage Doubles offer is back at Meijer this week!
Breakstone Cottage Doubles are priced at $1. Buy three in a single transaction, and you'll earn a Catalina good for $3 off your next purchase, effectively netting you FREE cottage cheese. It's that simple!
Breakstone Cottage Doubles, $1
Get $3 OYNO wyb 3
FREE after Catalina!
This offer is valid through 5/15/10, so you should be thoroughly sick of cottage cheese by then. Note that the offer is not rolling this time, so you'll need to alternate your purchases with another deal.
Thanks, Saving Addiction!