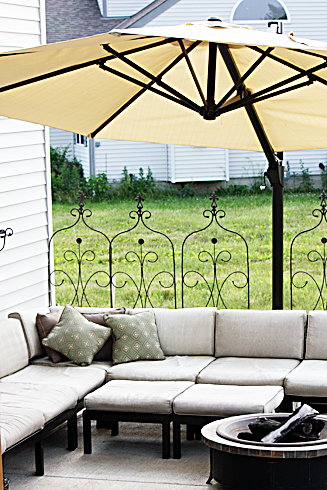 While our home is by no means tiny, it's definitely become quite cramped for a growing family of seven. Our goal is to purchase a new home next spring/summer, but in the meantime, we're always looking for ways to creatively stretch our current living space.
It should come as no surprise that this is infinitely easier in the summertime. My talented husband and neighbor built a custom deck on the back of of our house a couple of years ago at a fraction of the cost of hiring a contractor, and another neighbor poured us a gorgeous concrete patio for the mere cost of the concrete and a few cases of beer. Let's hear it for awesome neighbors!
We've furnished this space as an outdoor living area with comfortable couches, chairs and tables, plenty of flowers, and storage chests to hold all of the kids' toys. It's so nice to be able to enjoy the fresh air outside and have the extra room for our rambunctious kids to play. The only problem? The backside of our house gets near constant sunlight from dawn until dusk, and Ohio summers get downright sweltering. But thanks to Walmart, we'll be cool as cucumbers this summer…
Walmart challenged us to upgrade our outdoor space for just $150. I accepted even though I felt like our backyard was pretty much perfect as is — and I'm so glad I did. As soon as we walked into the Walmart lawn and garden department I spied this gorgeous Canopy 11′ Deluxe Offset Umbrella and instantly knew it was just what we needed to complete our outdoor living space.
We took it home, my husband put it together in 15 minutes flat, and we were able to enjoy our Memorial Day festivities in peaceful shade while the kids tossed water balloons and ran through the sprinkler. The single handle makes it easy to adjust the umbrella throughout the day to ensure maximum shade when the sun is at any angle.
I admit that I did cheat a little because the umbrella was priced at $197, but the additional $47 was a small price to pay for the many hours of use we'll get out of it this summer!
Do you use the great outdoors to add some extra livable square footage to your home?
Disclosure: I am a participant in the Walmart Moms program. Walmart has provided me with compensation for the time and effort spent creating this post. However, my participation in this program is voluntary and my opinions are my own — always have been, always will be.