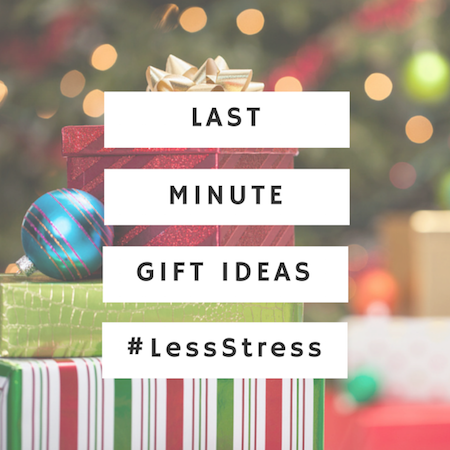 Christmas is just over a week away… Are you done shopping, yet? We actually seem to be pretty on top of things for the first time in ages, and I believe I just need to pick up a few stocking stuffers. Well, I guess I need to go grocery shopping, too — but gift-wise, we're pretty set.
I know what it's like to be crazy behind on my holiday shopping, though. There have been a good many years of staying up until 4am on Christmas Eve to get all of our gifts wrapped…
Last Minute Gift Ideas
So for those of you that need a little help and encouragement right now, I thought I'd throw together a short list of ideas that may help speed things along for you, hopefully making your last minute shopping a little less stressful!
Hot Tech Accessories — Technology is everywhere these days, which means that spare chargers and other tech accessories are always gifts that are well received. Consider a Mophie JuicePack ($79.99), I/O Magic Virtual Keyboard ($129.99), or the PNY T2200 PowerPack (starting at $7.49) for the gadget lovers on your gift list!
Hot Audio Accessories — Headphones make a fantastic gift for preteens and teens, and will make parents ecstatic, as well (ask me how I know this)! Check out the line of Beats by Dre headphones, earphones and speakers, as well as the Bose line, available online and in select stores!
Stocking Stuffers — I'm always tempted to buy dollar aisle junk as stocking stuffers, but I'd much rather buy gifts that I know the recipient will actually be able to USE. Some fantastic suggestions at Staples right now are a Google Chromecast ($30), Bottle Ninja bottle opener ($11.99), or a FitBit Zip ($59.99)! I'm actually hoping to find a FitBit in my stocking on Christmas morning…
Host and Hostess Gifts — Don't show up to those holiday parties empty handed. Check out these fun gifts that are sure to be a big hit for hosts and hostesses alike: Bendy Wine Aerator ($14.99), ChitChats Drink Markers ($9.99) or those big Yankee Candle Jars ($14.99) I mentioned the other day!
Co-Worker and Boss — You know that I love fun office accessories… They can totally transform a blah space to bling! Shop the Style at Staples line, which touts amazing pieces from Poppin, Paperchase and Cynthia Rowley that will help brighten up any office.
Reminder: Staples is your best bet for last-minute shipping of holiday gifts, with 20% off UPS and USPS shipping services through 12/23!!! It's not often that we see savings on shipping packages, so this is a HOT deal for sure. Just print your 20% off coupon here or grab one of the flyers in stores (you'll find the coupon on the back).
#LessStress at Staples
All season long, Staples will be helping you save more with less stress every day with:
Price Match Guarantee both in-store and online.
Risk Free Purchase with an extended holiday return policy.
New Staples Mobile App is faster with redesigned Weekly Ad page to showcase the best in-store deals and ability to view deals by category.
Daily Deals on the Staples.com online storefront.
Free Shipping from Staples.com for Staples Rewards members, plus up to 5 percent back in Staples Rewards on everything including technology.
Ship 7 Days a Week with package drop off and associate assistance.
Shop from Staples.com kiosk for items not found in store.
Do you have any other last minute gift ideas to share?
I'm so pleased to be partnering with Staples again this holiday season as part of the Staples Holiday Council! Their ultimate goal this holiday season is to "make less stress, more savings happen." Staples will be offering great deals (including exclusive offers!) throughout the holiday season, helping you get more for less!
This post is brought to you by Staples. All opinions are 100% mine.