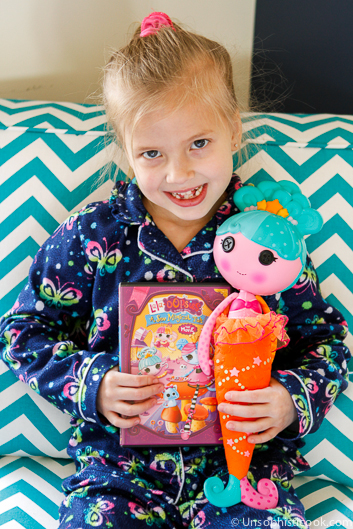 If you're still on the hunt for a relatively inexpensive Easter basket item for a girl, then you may want to check out this adorable Lala-Oopsies: A Sew Magical Tale DVD. Exclusively at Walmart, it's priced at $9.96 currently.
I had the opportunity to watch this sweet DVD with my youngest daughter today, and she loved it so much she watched it three more times before she had to leave for gymnastics practice.
A little about the movie:
Now, for the very first time, journey beyond the rolling green hills of Lalaoopsy Land to a magical place never seen before where you'll meet the Lala-Oopsies! On islands that float on strawberry milk rivers, surrounded by tall mushroom trees, live the whimsical Lala-Oopsies princess ballerinas, fairies and mermaids. Join them as they embark on a fantastical journey to save their precious homes when the strawberry milk, which powers Lala-Oopsies Land, suddenly stops flowing.
One of my favorite aspects of the movie is the subtle encouragement for kids to read that's included. The movie starts with a Lalaloopsy character selecting a book to read, which is the magical mermaid tale that ensues. Even the coordinating dolls that can be purchased have handles on the packaging which double as bookmarks once you trim them off after purchase.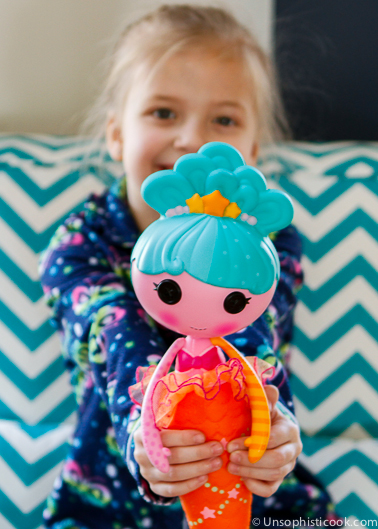 As I mentioned, there is also a line of Lalaloopsy Oopsies mermaid dolls that coordinate with the DVD. Pictured above is cute and colorful Water Lily, one of the main characters of the DVD.
My daughter's favorite feature is the the color change tail that changes with cold and warm water, while her little brother made off with the whimsical octopus sidekick, squirting water all over the bathroom. Boys will be boys!
All of the Lalaloopsy Oopsies mermaid dolls are also exclusive to Walmart currently.
As a participant in the Walmart Moms Program, I've received product samples and compensation for my time and efforts in creating this post. All thoughts and opinions are my own.